For all my new sites, I'm using free OpenShift account. But it is not 100% stable. Now, I have 5 sites located on OpenShift, and at least once a week, I need to restart one of them (usually it's error 503). So, when number of visitors on sevennet.org exceeded 4000 per day I have decided to move this wordpress blog to my VPS.
Here is a small instruction how to do that
Prepare your VPS\VDS
On your VPS you should have nginx\apache with php and mysql installed.
I would recommend you to change apache to nginx. And here is proper wordpress site configuration for nginx
Generate ssh key to access your OpenShift application
I have made small note: how to generate ssh key and access OpenShift account with this key
Backup your database
Go to your wordpress administration panel
Select Tools
Go to Export
Select All Content and press Download export file
Save and download all site files and database dump from OpenShift
Create temporary folder:

mkdir

 php/temp

Dump database with following command:

mysqldump -u

$OPENSHIFT_MYSQL_DB_USERNAME

 -h

$OPENSHIFT_MYSQL_DB_HOST

 -p

$OPENSHIFT_MYSQL_DB_PASSWORD

 

$OPENSHIFT_APP_NAME

 

>

 php/temp/database.sql

Archive site file structure:

tar

 -chvzf php/temp/www.tar.gz app-root/data/current

If mysql dump is to big - archive it:

tar

 -cvzf php/temp/sql.tar.gz php/temp/database.sql
Connect to OpenShift with FTP client and download all backups
I will use WinSCP to do that.
Open WinSCP and fill address and username information (you can find in on your OpenShift application's page)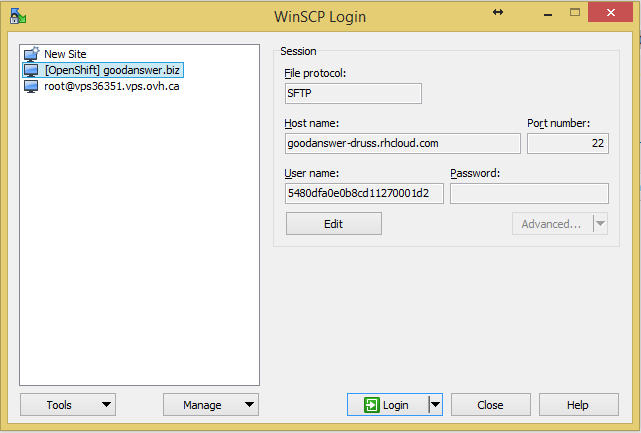 Go to Advanced... -> Advanced and specify your ssh key there: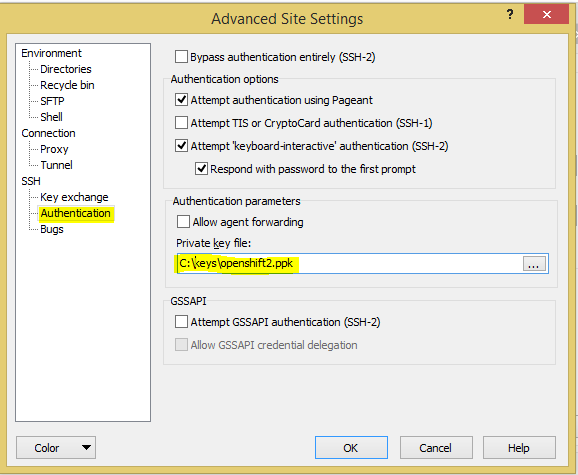 Save and connect to your server.
Go to "php/temp"
Download

www.tar.gz

and

sql.tar.gz

on your computer
Create and deploy database on VPS
Connect to your VPS\VDS with WinSCP
Upload sql.tar.gz
Connect to VPS via ssh
Extract sql.tar.gz

tar

 -xvf sql.tar.gz

Create database and user for wordpress site (replace all CAPS with actual values):

mysql -u ROOT_DB_USER -pROOT_DB_USER_PASSWORD -e 

"create database NEW_DB_NAME; grant all privileges on NEW_DB_NAME.* to NEW_DB_USER@localhost identified by 'NEW_DB_USER_PASSWORD'"

Restore database content from dump file (replace all CAPS with actual values):

mysql -u NEW_DB_USER -pNEW_DB_USER_PASSWORD NEW_DB_NAME 

<

 php/temp/database.sql
Modify Wordpress configs
On your local computer extract files from www.tar.gz
Open \www\app-root\data\current\wp-config.php for edit
Replace

// ** MySQL settings - You can get this info from your web host ** //




/** The name of the database for WordPress */




define

(

'DB_NAME'

,

 

getenv

(

'OPENSHIFT_APP_NAME'

)

)

;





/** MySQL database username */




define

(

'DB_USER'

,

 

getenv

(

'OPENSHIFT_MYSQL_DB_USERNAME'

)

)

;





/** MySQL database password */




define

(

'DB_PASSWORD'

,

 

getenv

(

'OPENSHIFT_MYSQL_DB_PASSWORD'

)

)

;





/** MySQL hostname */




define

(

'DB_HOST'

,

 

getenv

(

'OPENSHIFT_MYSQL_DB_HOST'

)

 

.

 

':'

 

.

 

getenv

(

'OPENSHIFT_MYSQL_DB_PORT'

)

)

;

with

// ** MySQL settings - You can get this info from your web host ** //




/** The name of the database for WordPress */




define

(

'DB_NAME'

,

 

'NEW_DB_NAME'

)

;





/** MySQL database username */




define

(

'DB_USER'

,

 

'NEW_DB_USER'

)

;





/** MySQL database password */




define

(

'DB_PASSWORD'

,

 

'NEW_DB_USER_PASSWORD'

)

;





/** MySQL hostname */




define

(

'DB_HOST'

,

 

'127.0.0.1:3306'

)

;

 Delete whole block from "/**#@+" line till "/**#@-*/"
Copy and past that text instead of deleted block
If you don't use ssl connection then delete "

define('FORCE_SSL_ADMIN', true);

" line
Also delete following lines:

/** Tell WordPress where the plugins directory really is */




if

 

(

 

!

defined

(

'WP_PLUGIN_DIR'

)

 

&&

 

is_link

(

ABSPATH

 

.

 

'/wp-content/plugins'

)

 

)


  

define

(

'WP_PLUGIN_DIR'

,

 

realpath

(

ABSPATH

 

.

 

'/wp-content/plugins'

)

)

;

Save file
Archive www folder again (for windows you can use 7zip)
Deploy files to the VPS
Upload www.tar on VPS
Connect to VPS via ssh (putty)
Extract files

tar

 -xvf www.tar

Copy files to web server site root directory:

cp

 -a www/app-root/data/current/* /var/yoursite.com/www

Reload web server
Update MX record on your NS server
Change your domain MX record, so it will point to the new VPS server instead of old OpenShift application